Krytonite Swelling Waterstop is a synthetic rubber waterstop that uses swelling pressure to completely seal concrete construction joints.
Krytonite has superior swelling pressure and performance that stops water more effectively than any competing swelling waterstops. It is suitable for use with regular ground water as well as salt and sulphate contaminated water. Krytonite is extremely durable and will not deteriorate over time. It can be used on its' own as a single protection waterstop, or with other components of the Krystol Waterstop System as a double or triple protection option for construction joints.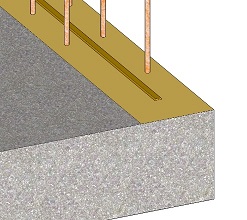 Krytonite Swelling Waterstop is adhered using Krytonite Adhesive at or near the center of the construction joint to the clean, dry, concrete surface. For added long-term protection of the outboard reinforcing steel, apply Krystol Waterstop Treatment to the concrete surface first and then adhere Krytonite to the treatment. Once this is completed, pour the concrete over on the Krytonite making it part of the concrete structure.
Use Krytonite Swelling Waterstop to permanently waterproof horizontal or vertical construction joints, pipe penetrations, between precast elements and other concrete joints. The Kryton Waterstop System is not suitable for expansion joints. Suitable for use in sewage and containment structures. May be used in areas with chloride or sulphate contaminated soils and in contact with sea water. Use in conjunction with Krystol Waterstop Treatment, or as a replacement for bentonite strips.
High-performance swelling – even in contaminated water
Easy to inspect before and after concrete has been poured.
Flexible and easy to install using Krytonite Adhesive
Extremely durable – will not deteriorate even with repeated wetting and drying cycles
Innovative trapezoid shape resists dislodgement and allows better concrete consolidation
Controlled swelling allows for concrete strength development in advance of swelling pressure
More cost effective compared to other barrier systems
Can withstand extreme hydrostatic pressure
Durable and not prone to job-site damage
Safe for contact with potable water and Certified by NSF to NSF/ANSI Standard 61 Drinking Water System
Adapts to curves and uneven surfaces